Norfolk Tea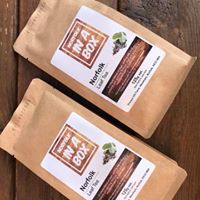 This Tea has been specially blended for us here at Norfolk In A Box to give you our customer the lovely flavours of Norfolk Tea. With our hard water table here in Norfolk this tea is simply devine. Our Norfolk Tea is available as a add on to any of our set boxes. Norfolk veg Box, Salad Box, Fruit Box or even our Mixup Box.
We have also now included this into our New Build A Box section, this is were you can hand pick produce that you would like from Norfolk Honey, Norfolk cakes to fresh banana, fresh red apples or even some split peas and Norfolk apple juices.
Our range of Norfolk made products is growing, if it's from Norfolk we hope to have it available in our Build A Box section or as an add on to any of our boxes..
All of our Veg Boxes are still delivered free. We take recycling here at Norfolk in a box as a major part of our business, with plastic free produce and collecting your old delivery box to use again, then taken to a recycling centre when they finally give-up.